BRIDGE OVER THE RIVER KWAI MIGHTY TRAINS TRIP..
WITH DISCOVERY CHANNEL ON OUR RIVER KWAI TOUR
November 2018 was a special month for us. The 'Mighty Trains' production team from Discovery Channel contacted us a few months before  to take them on a daytrip to the bridge over the river Kwai for their special Mighty Trains program. So we set out an amazing river Kwai tour especially for for them.
The show is about trains and tracks from all over the world and they needed us to shine a light on the history of the building of the Birma railway track during WWII. Together with a production team of about 10 persons our Bangkok guides Angmo and Tommy took them on a special river Kwai tour and presented everything there is to know about this infamous bridge over the river Kwai and railwaytrack.
Early morning at 05.15 am they met in the hotel and together got into their vans who took them to Hua Lampong railway station. Here one team (together with Angmo) got on the train. The other team left Bangkok by van to wait for the train's arrival at the bridge over the river Kwai to get some great B roll shots. The team on the train discussed the history of the tracks, had some snacks during a 30 minute stop at Nakhon Pathom Chedi and Angmo informed them about the best shots during this day.
The train left Bangkok at 06.30 and arrived at the bridge over the river Kwai in Kanchanaburi at 09.30 am. Tommy's team awaited the train and surprised them with fresh coconut icecream because it was already pretty hot. After shooting some good B roll Tommy's team left to install his team at the next arrival point. Teddy, the presenter of the Might Trains show, and Angmo walked along the bridge and talked about the history of the war, the building of the railway tracks and some local hero stories that are very important for Thai people.
At 10 am the train left the station at the bridge over the river Kwai. Passing fields of sugarcane and cassava, small local villages, bananatrees and mountains they arrived at Tham Krasae wooden bridge. Tommy's team was already waiting and got some great shots from the river below when the train passed the 200 meter long wooden bridge. Angmo's team got of the train and explored the wooden bridge and cave next to it with Teddy and the film crew. Explaining some new details about the terrible circumstances of the prisoners of war, Angmo made sure Teddy and his crew got the best shots possible during this river Kwai tour.
Both teams met at the restaurant at Tham Krasae for lunch and a well deserved break.
The afternoon was used to shoot some good B roll from the bridge over the river Kwai and make a boat trip along the famous river. Once the whole production team was satisfied with what they got and wanted, both teams departed back to Bangkok by van. Around 8.30 pm both teams arrived at the hotel in Bangkok after a fun and impressive river kwai tour with us. We're looking forward to see the Migt Trains show soon with this special side track item about Kanchanaburi, the Birma railway track and bridge and of course our river Kwai tour.
Co-starring our private Bangkok guide Angmo on this special Discovery Channel river Kwai tour.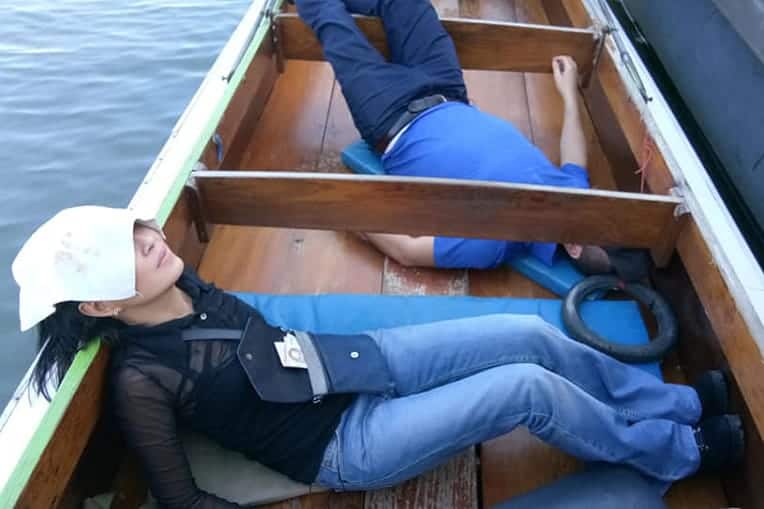 DISCOVER THE RIVER KWAI..
RIVER KWAI TOUR
This full day tour to Kanchanaburi will take you to the famous Bridge over the river Kwai where you will learn all about the history of the infamous bridge and railway track.
BANGKOK TOURS
This link will take you to our overview page of all the tours in Bangkok that we offer. If however you can't find your Bangkok tour here please don't hesitate to send us a message.
BANGKOK SHORE EXCURSION
This one day tour from Laem Chabang port is the perfect private tour to Bangkok if you want a private and fully customizeable tour from the port. Why join others if you can go private?
AYUTTHAYA TOUR
This is the best introduction to Thailands history. On this day tour from Bangkok to Ayutthaya you'll emerge yourself into the history of Thailand and Asia. Your private Thai guide will show you all.
THAI SABAI LIFE CO. LTD.
232 Bangbon Soi 18, Khwang Bangbon, Khet Bangbon, Bangkok 10150
I have taken a lot of tours all over the world, from the "best" companies with the "best" guides, but Tommy in Bangkok stands out as one of the best there is. He is not only extremely courteous, he is adventurous and knows how to show you a good time. He knows so many locals and the local places, you really feel like you get to know the city. He will make sure you have the best and most authentic food in all of Bangkok. Whether it is eating coconut ice cream out of a coconut on a boat at the floating market or local pad thai on side streets in Bangkok, a tour with Tommy is the way to go.
MLM 428
Angmo began communicating with us way before our actual travel date to learn about our family and our needs. When we arrived at Bangkok, driver was waiting for us with nice air conditioned travel-van with ice cold water.
Angmo took us to various places for 3 days with different theme each day. Our boys (13 and 10 year old) still talk about our visit to Elephant farm where they got to spend some time close to the animals up close and personal.
I really appreciate Angmo and Olaf taking the time to take us various cultural places and all kind introduction about Thai culture. We learned couple of new songs and got introduced to different style of Thai food.
Angmo also was so kind to take pictures of us during our trip – so we could be truly carefree and immerse ourselves into Thai culture!!
Many thanks to Angmo!! and Congratulations on your wedding!!!!! It was great to meet you fiancé, Olaf!!
Truly amazing local travel experience and I highly recommend Angmo to be your local guide!!
Phillip K
Never have I had a more information and engaging guide. Funny, smart, engaging, and inspiring. She was proud of her people and I love Thailand and its culture even more after a day with Miss Ann. She surprised us with an unexpected treat and we had a wonderful time. Spend your money wisely and take this tour. It's like taking a fun college lecture with amazing expertise.
Ryan S