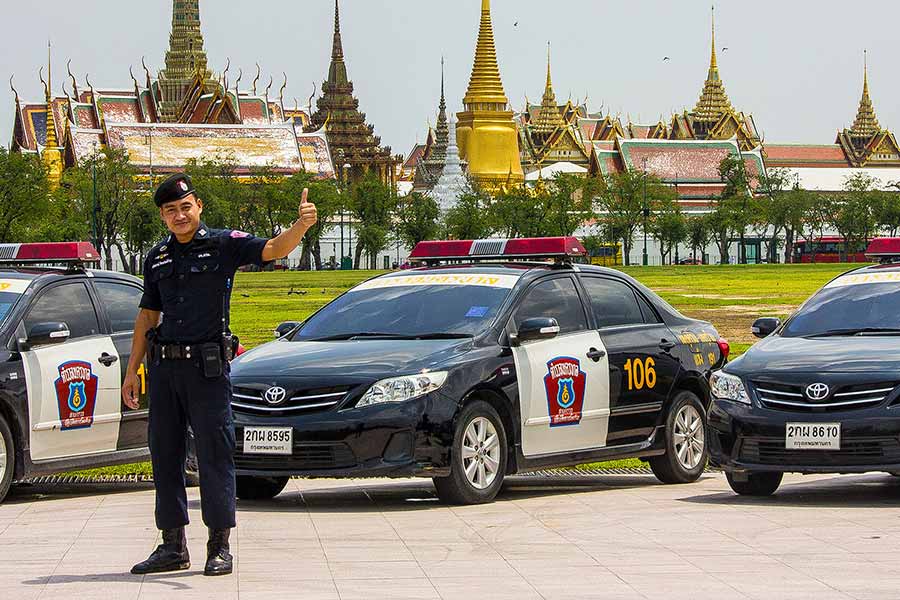 OUR TERMS AND CONDITIONS
To book your tour in or around Bangkok with us, all you need to do is to follow the Booking Link on the tourpage that you would like to book. When we receive your booking we will then send you an invoice for a 20% deposit through Paypal. Once we have received the deposit the tour is booked and we'll confirm the tour to you. You will then receive your itinerary as a PDF with all the details.
About 2 weeks to 10 days before the tourdate we will send you a second invoice through Paypal for the remaining 80% of the tour. This way you can travel worry and hassle free while exploring all the special places and highlights in Bangkok with your amazing guide.
If you book your tour within 2 weeks of your requested tourdate we will send you an invoice for the total tourprice which you can then easily pay to secure your tour with us. We do not accept cash payments on the day of the tour.
If we have not received the full payment at least 7 days prior to your tourdate we reserve the right to cancel your booking. Please check out the Cancellations tab for more details about cancelling your tour. If you are not sure yet which tour to book or if you want to combine some different tours or if you have any questions, please don't hesitate to contact us. We'll be happy to answer all your questions as soon as possible.
Top 5 Sightseeing Tours In Bangkok
WHAT IF YOU NEED TO CANCEL YOUR TOUR
If by any chance you need to cancel your tour with us please do so as soon as possible. For cancellations made we will refund as follows:
Cancellations made up to 1 week before the tourdate are refunded for the full 100% but minus Paypal fee.
Cancellations made within 1 week to 24 hours before the tourdate we refund 50% of the tourprice minus Paypal fee.
Cancellations made within 24 hours before the tourdate are not refunded.
Paypal will charge for refunds their normal commission rate of 4,5% which we can not dispute for you. So the actual refund you receive will be minus the Paypal fee.
If we have not received the full payment at least 1 week before the actual tourdate we reserve the right to cancel your tour. We will use the paid deposit to pay your guide and driver a small fee for a lost job.
In any case of cancellation we pay our guides and drivers a fee for a lost job if they do not get rebooked.
We hope you can consider our cancellation policy as honest and fair for everyone.
INSURANCE POLICY
We would like to inform you about the following policy as it's something you need to consider while traveling abroad. We feel it's important to understand the rules and adhere to local laws and restrictions.
By Thai law we (and other touroperators in Thailand) need to insure our guests while on tour. To do this we need to send our insurance company some information about our guests.  We know that the requested information is sensitive so you can choose not to send us the requested information. By not sending this information you agree to not use our insurance in any case of medical assistance or accident while on tour with us.
While traveling abroad it is always adviseable to have a good and clear international travel and health insurance. For medical costs but also for repatriation if needed.
Our insurance company is liable for medical expenses up to 500.000 Thai Baht within Thailand.
What we need from all guests is the following:
First names.
Last name.
Date of birth.
Passport number.
Expiry date of passport.
Country of residence.
Arrival flight number and date to Thailand.
Departure flight number and date from Thailand.
But as mentioned, we advise you to get a good international health insurance  back at home so while exploring Thailand or any other country you can always rely on this.
By the way, Thai hospitals are considered very good and in some cases even better then Western standards. So if anything would happen to you while taveling in Thailand you can be sure to be in good heands with a Thai doctor and the hospital facilities.
SHORE EXCURSIONS
Bangkok has 2 cruise ship ports. One is Laem Chabang port which is located approx. 2,5 hours drive East of Bangkok. This means that for a one day tour to Bangkok the drive is around 5 hours in total. In any case of delay of the ship, farce majeur or unexpected situations we can not be held responsible for late arrival back at the ship.
We always to our best to make sure that our guests arrive about 1 hour before their departure time at the ship as the captain loves his guests to be back around this time.
If you really want to play it save you can book the join in cruise ship transfer to and from Bangkok with the cruiseline. Your guide will then meet you at the meeting point in Bangkok and will bring you back in time to the same point for your transfer back to the ship. In this case our best tour to book is our "one day Tailor Made tour'.
If you would like to be insured for not getting back in time for your ship we can arrange this at a surcharge. Please contact us for more details.
The other port is Klong Toey port which is inside Bangkok city so traveling time is the same as from any hotel in Bangkok and mainly depends on the day of the week, time and traffic. You can book your tour with us easily and safe.
guest reviews
99.603

1746018% 

5 *

reviews
Thai Sabai Life
Bangkok Tours – Thailand Travel
Address
5/73 Wararom 81,
Village Bang Bon 5, Kwaeng Bang Bon,
Bang Bon, Bangkok 10150
Click Here To Watch Our Tour Video's